Testimonials
This section contains some feedback from initial users of the New Wave Soccer Conditioning program. If you would like to share your own success from utilizing the components of this program with others who visit this site, please contact us with a brief statement on how New Wave Soccer Conditioning made you or your children better soccer athletes. Thank you for your comments and support.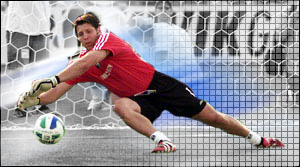 "My son has worked with Michael Rose for individual training sessions, and has seen firsthand the benefits of all the components offered with the New Wave Soccer Conditioning program. I have noticed a significant improvement in his quickness to the ball during competitive play. Having access to this on-line training program helps him in staying focused on continuing the proper training. There is enough variety to keep his interest while continuing to make improvements in his strength & conditioning.
I encourage anyone who wants to become a complete player to apply the principles of the New Wave Soccer Conditioning program."
James Condon-Carlisle, PA

"The program design for the weight training section is worth the price of the program itself. Having a structured routine to follow during the entire year provides the necessary guidance and eliminates the guesswork. It also avoids spending wasted time in the weight room by providing the exercises which are most crucial for improving soccer performance."
Brian Kelley-La Jolla, CA

"The addition of the soccer skill movements to some of the speed, agility, and footwork drills seems to make a lot of sense. It enables the individual to work on those aspects of conditioning while at the same time develop soccer specific skills. My daughter plans to stay committed in utilizing this program as she continues to participate in soccer."
Karl Thompson-Greensboro, NC

"New Wave Soccer Conditioning not only offers a well structured program which is easy to understand, but it is also very educational. It is interesting to learn how each component is designed specifically for helping soccer players improve their ability.
I strongly recommend this program for those who are dedicated to becoming better soccer players. It is definitely time well invested."
David Ouimette-Mansfield Center, CT


"My daughter(Renee) started training under the supervision of Michael Rose around the same time he was completing the development of the New Wave Soccer Conditioning on-line training program. All the drills and exercises he utilized with her are available with this program, but there is also much more. She has shown improvement in speed, agility, strength, and flexibility during her three months of training with Michael, and looks forward to making continual improvements by using this on-line training program on a year round basis. The large amount of training information on this web site is well organized, which makes it convenient for the user to navigate through all the drills and written instructions on how to utilize the training components properly."
Bill W.---Dillsburg, PA
"New Wave Soccer Conditioning Program offers some invaluable advice for the weight training needs and concerns of the younger athlete. It is reassuring to know that we are using a program for our children which is safe and effective."
David & Therese Mellman---North Wales, PA
"The interval running section offered with this program to improve game conditioning is very creative and is certainly on target by utilizing the various foot movement patterns that all soccer players use during actual game conditions. As someone who continues to play soccer at the recreational league level, I wish this program would have been available for me as a developing teenage athlete."
Trevor Worrell-Brooklyn, NY