Philosophy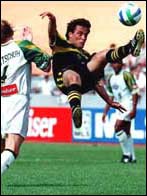 The philosophy of New Wave Soccer Conditioning is to utilize functional soccer strength & conditioning to help all soccer athletes in their pursuit of excellence.
Soccer requires multi-joint, multi-plane, multi-directional movements, and training needs to be structured in a way that will prepare the soccer athlete for that reality.
This is a strength & conditioning program, which will best transfer to the actual playing conditions of the sport of soccer. A secondary emphasis of this program is to reduce the risk of injury.
PURPOSE OF PROGRAM
New Wave Soccer Conditioning was created to provide the soccer athlete access to a properly structured, soccer specific strength & conditioning program, which is well organized and easy to follow. It also allows the individual user to implement the different components of this program around his or her own schedule. No need to worry about trying to work out a scheduled time to meet with a personal trainer. This strength & conditioning program provides all the components necessary to help all soccer athletes reach their maximal playing potential.
There is also one major area of concern, that the creation of this program targeted to meet the strength training needs of soccer athletes. Typical resistance training programs for all sports, including soccer, are designed for athletes, who have an extended off-season. The needs of a large population of soccer athletes are not well served with such a design, since several of those athletes are active playing soccer on a year round basis through club team participation. Therefore, New Wave Soccer Conditioning provides a specially designed alternative resistance training program specifically for those athletes, which will improve strength while not causing too much fatigue due to a heavy volume of resistance training that is usually performed during the off-season. A traditional resistance training program for the soccer athlete with an extended off-season also is also provided.
Finally, it is important to distinguish among different age levels when choosing to implement a strength & conditioning program. A youth soccer player, who is not yet physically mature, should not follow the same resistance training program as the older athlete uses. It will not only be ineffective, but will most likely cause potential physical harm to the growing body. Potential damage includes premature closing of the growth plates of the long bones. New Wave Soccer Conditioning includes a safe, well designed resistance training program for the youth athlete to follow with the appropriate adult supervision. Other training components in the program also identify exercises/drills with a 'Y', that are appropriate for youth soccer players to utilize for establishing an early foundation in their soccer strength & conditioning.
The overall purpose of this soccer specific, strength & conditioning program is to fulfill the needs that best serve the entire soccer community. Keep in mind however, the commitment that you make to utilizing all the components of this program will determine how much it will help you reach your potential as a soccer athlete.